ANTIQUE AUTOMATED MUSICAL CAROUSEL IN EGG FORM | CA1890, ENGLAND, HALLMARKED STERLING SILVER
ANTIQUE AUTOMATED MUSICAL CAROUSEL IN EGG FORM | CA1890, ENGLAND, HALLMARKED STERLING SILVER
AUTOMATED-MUSICAL-CAROUSEL-VC1-013
$5,500.00


ANTIQUE AUTOMATED MUSICAL CAROUSEL IN EGG FORM | CA1890, ENGLAND, HALLMARKED STERLING SILVER
AUTOMATED-MUSICAL-CAROUSEL-VC1-013
$5,500.00
Product Details
---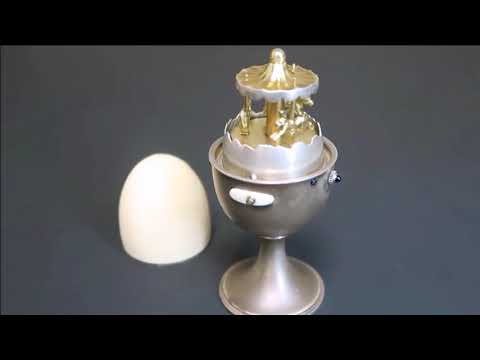 AUTOMATED MUSICAL CAROUSEL VC1 13 - YouTube
Video will open in a new window
Using the eBay App? Paste link into a browser window:
Unique Silver, Enamel & Gold Musical Automated Carousel In An Egg In A Cup
London, England; Man's; Circa: 1890
CASE: The sterling silver hallmarked case is 4-1/2" high has automaton with music.
CONDITIONS:
C 2 (The case is in perfect condition)
D 2 (The dial is in perfect condition)
M 2 (The movement is in perfect condition)
R 9-1/2 (Rarity on a scale of #1 being very common to #10 being extremely rare.)
Wind sapphire crown, push start button and the merry-go-round starts with music (wound on bottom). A unique treasure for the collector and investor! Egg form is white enamel on sterling. A gold washed horse, rabbit and chicken form the carousel.