16-Size Niello Mobilis Tourbillon Pocket Watch with Original Cloth Bay
NIELLO ENAMEL HORSE CASE MOBILIS TOURBILLON POCKET WATCH
POCKET-WATCH-VC1-019
$6,750.00


NIELLO ENAMEL HORSE CASE MOBILIS TOURBILLON POCKET WATCH
POCKET-WATCH-VC1-019
$6,750.00
Product Details
---
Unused, Unsold 16-Size Niello Mobilis Tourbillon Man's Pocket Watch With Original Cloth Bay
Swiss; Mobilis; Man's; Serial # 10,540; CA1890
Complications: Tourbillion.
CASE: The No. 5 coin silver 16-size open face case displays enamel and niello decorations.
DIAL: The gold/silver fancy metal dial features Arabic numerals and spade hands.
MOVT: The 16-size stem-set No. 10,540 gilt movement has a lever escapement, ¾-plate layout and signed.
CONDITIONS:
C 2 (The case is in perfect condition)
D 2 (The dial is in perfect condition)
M 2 (The movement is in perfect condition)
R 10 (Rarity on a scale of #1 being very common to #10 being extremely rare.)
Experts Opinion: Gold inlayed horse and rider with two hunting dogs on a fox hunt. Amazing condition for this fantastic timepiece, adjusts itself for position timing variations. A plain silver Mobilis brought $6,150.00 June 2015 at Christie's Hong Kong.
MOBILIS. AN UNUSUAL SILVER OPENFACE KEYLESS LEVER WATCH WITH TOURBILLON
SIGNED MOBILIS, MOVEMENT NO. 102'964, CASE NO. 1379, CIRCA 1890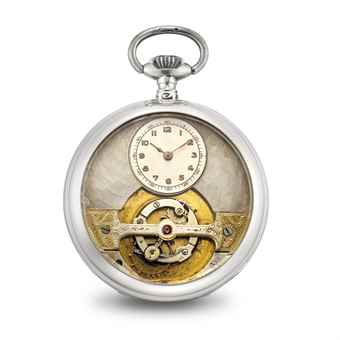 Estimate
HK$6,400 - HK$9,600
($830 - $1,200)
Sale Information
Sale 3429 —
Important Watches
3 June 2015
Convention Hall