Ruby and Diamond Halo Engagement Ring | 14K White Gold, 1.5 CTW Ruby, Size 6
Ruby and Diamond Halo Engagement Ring | 14K White Gold, 1.5 CTW Ruby, Size 6
RUBY-RING-AJ12020-03-AI
$3,250.00


Ruby and Diamond Halo Engagement Ring | 14K White Gold, 1.5 CTW Ruby, Size 6
RUBY-RING-AJ12020-03-AI
$3,250.00
Product Details
---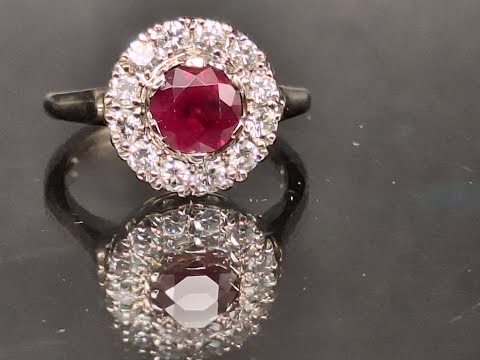 Ruby and Diamond Halo Ring | 14K White Gold, 1.5 CTW Ruby, Size 6
Video will open in a new window
Using the eBay App? Paste link into a browser window:
Ruby and Diamond Halo Engagement Ring | 14K White Gold, 1.5 CTW Ruby, Size 6
MAIN STONE: One round ruby in a six prong setting.( 1.5 CT TW)
SECONDARY STONE: Twelve round four prong set diamonds.( .60 CT TW)
MEASUREMENTS: This size 6 ring has a face of 13mm tall by 13mm wide and sits 6mm above the finger.
METAL:14k white gold, marked 14k
Weighs 2.6 DWTS = 4.04 GRAMS TW.

Lively and desirable, this round ruby is complimented by diamond halo. Unique, beautiful and durable - Perfect for the fashion-forward bride!

Rubies, known to be the symbol of love and romance, are also the most expensive of the precious gemstones, and for good reason. This is one of the most historically significant of the colored stones, considering its popularity amongst European royalty. Rubies were thought to bring health, love, peace and wisdom to their wearer, and they come in many different shades of red and are cut all different ways, each one more unique than the other. Adding to their rarity and singularity, the rarest of these precious stones are a beautiful, intense red.